Business Travel: Claim Management in case of Delays and Interruptions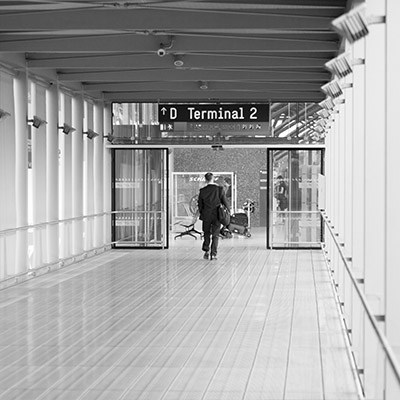 In cooperation with Raths Legal Office you can claim compensation for all delays and cancellations cost free, without pressuring your legal department or contract lawyers. These claims can often add up to thousands of Euros per annum.
In addition we can claim compensation retroactive: delays can be claimed for the past three, cancellations for the past two years.
With us you can be sure that:
You are being cared for by highly specialized lawyers
Your claims are being handled professionally
Your data is completely secure
You receive continual complete reporting
We are providing full cost transparency for you
You are giving away several thousand of Euros!
Approximately 1,4% of all booked flights are delayed by more than 180 minutes or are completely cancelled. The resulting recovery and damage claims amounting to millions of Euros are only recovered by 5% of passengers. Especially companies give away a great amount of money to the airlines.
These are the claims you have:
Quick, easy and no cost risk compensation
Claims can be made against all airlines irrespective of the paid price and/or rebates. At no trouble to your firm, we carry out your claims – even in a law court.
Our co-operation is very simple – claiming compensation is done fully automatically. All flights under the Vo(EU)26/2004 i.e. for 28 European countries are analyzed by an electronic monitoring system, developed for us. We compare given details fully automatically with worldwide flight data to confirm your compensation claims. These are immediately furthered to the airline via your contract tourist agent for example. Any resulting delay/cancellation would automatically be claimed from the corresponding airline. Data security is guaranteed by Raths Legal Partnership.
Don't give away so much money every year!
Claim at no cost risk, without troubling your legal department, compensation for flight delays and cancellations. Delays can be claimed for the last three years and cancellations for the last two years.
Retroactive potential for delays can be calculated as follows:
Retroactive potential for delays per annum = (flight p.a.) x 0,7%x 400.00 Euro
Retroactive potential for cancellations per annum = paid ticket amount x 0,6%
Less than 5% of business passengers already ensure their claims. This is a "billion business" benefit for the airlines. As soon as a claim is made, you are informed and receive postings at regular intervals on the monetary stand of your compensation. Reimbursement of tickets, taxes, costs in cancellation cases will also automatically transfer to your given account.
In as far as the company has not claimed for its employee only, but also for its own account, the value-added-tax for legal services will be charged. You can regain this amount from the Inland Revenue in the usual way.
Ensure your claims. Get in contact with us!